The Strongsville Community Band
presents
A Benefit For Hurricane Relief Victims
"HELP AND HOPE THROUGH MUSIC"
Sunday, October 29, 2017 at 3:00 PM
Strongsville Middle School Auditorium
13200 Pearl Rd.
There is no admission charge but concert goers will have an opportunity to make a donation to the relief efforts.
All donations will go to the American Red Cross and the Salvation Army.
Music on the program will reflect the American spirit.
In addition The Strongsville City Jazz Swing Band will make a special appearance
and perform in the cafeteria at 2:30 PM prior to the concert.
Baldwin Wallace University Concert - June 2014

Ken Mehalko, Director
Ken Mehalko has been bringing music to Strongsville for the past 57 years. During most of those years, 1961-1990, he served as the Director of Instrumental Music at Strongsville High School. The ensembles he directed-the marching band, concert band, orchestra and jazz ensemble received statewide and national recognition for their musical excellence at state contests, music conventions and parades such as the Orange Bowl Parade and the Tournament of Roses Parade. In 1990 he founded the Strongsville Community Band and two years later, the Strongsville City Jazz. He and his wife, Beverly created Puttin' On The Glitz, a successful musical variety show in Strongsville for persons over 55 years of age. Ken has also served as a music educator in Chile for the Ohio Arts Council as a guest of the Chilean Ministry of Culture on five different occasions. He recently retired as Director of Athletic Bands at Baldwin Wallace College. He graduated from Baldwin Wallace College in 1961 with a degree in music education and holds a master of arts degree from Case Western Reserve University. He is a member of the Strongsville Rotary Club, performs with the TOPS Swing Band, is a past member if the Strongsville Education Foundation and has been very active in the Ohio Music Education where he held various offices over the years. His many honors and awards include: The Baldwin-Wallace Conservatory Alumni Achievement Award; Baldwin-Wallace College Outstanding Educator Award; Strongsville High School Distinguished Alumni Award as a former teacher and a Medical Mutual Of Ohio Outstanding Senior Volunteer Honorable Mention Award for his work with the "Glitz". He lives in Strongsville with his wife, Beverly Wehr.
---
Strongsville City Jazz Swing Band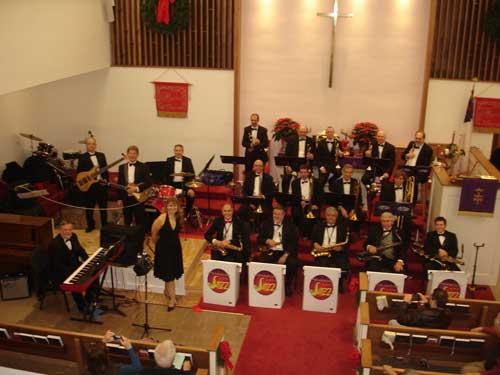 The Strongsville City Jazz is one of the most versatile groups of its kind in the Cleveland area, playing everything from jazz classics to swing music from the big band era. The fine musicians who make up the band bring a variety of musical experience to their performances that include entertaining at Playhouse Square, The Front Row Theater, Kenley Players, and The Coliseum. Some members of the band have performed with some well-known ensembles, including The Glenn Miller Orchestra, Warren Covington, Buddy Rich, Louie Bellson, and Jimmy Dorsey big bands and The Cleveland Jazz Orchestra. The band performs during the summer as part of the Strongsville Community Band Summer Concerts and in other area communities. During the winter the band has been featured at a number of Cleveland area high school jazz festivals and on occasion has played for some dances.
Vocalist Kim Wasielewski complements the band with her refreshing vocal renditions of many pop favorites. Kim, a dance instructor and yoga teacher, has been singing with the band for a number of years.


The Strongsville City Jazz is co-directed by Ken Mehalko and Jim Wonnacott. Ken founded the band in 1992. He is retired from the Strongsville City Schools where he successfully directed the high school band for 29 years. Presently he directs the Strongsville Community Band, and is the former Director of Athletic Bands at Baldwin Wallace College (now University).

Jim Wonnacott is also a graduate of Baldwin Wallace College (now University). He retired from the Strongsville City Schools in 1996 where he had success teaching at Center Junior High School. As a freelance musician and arranger he has performed for many prominent bands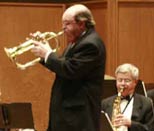 and entertainers, including The Cleveland Jazz Orchestra and has toured with singer Al Martino. On June 27, 2011 Jim performed with the Jimmy Dorsey Orchestra, featuring the Pied Pipers at Lake Chautauqua, New York. He is the founder and former Musical Director of the Baldwin Wallace Alumni Jazz Orchestra and in July, 2016 he toured with "The Platters." Jim received the 2009 BW Conservatory Alumni Achievement Award in recognition of his accomplishments as a performer and educator in the Cleveland area and his dedication to the Alumni Jazz Orchestra and was awarded the BW Alumni Association Merit Award in May, 2011. On July 11, 2012 the Cleveland TOPS Swingband named Jim as its new Music Director. On May 2, 2013 Jim was inducted into the Euclid High School Alumni Association's Distinguished Acheivement Hall of Fame.

Strongsville City Jazz Swing Band performances:

Sunday, Oct. 22, 2017 at Bethel Lutheran Church, 7171 Pearl Rd, Middleburg Hts. at 3:00 p.m.
Sunday, Oct. 29, 2017 at Strongsville MiddleSchool Cafeteria at 2:30 for Hurricane Relief.
Sunday, Nov. 12, 2017 at Strongsville First Lutheran Church at 3:00p.m.
SCJazz will rehearse Monday, Oct. 16, 2017 from 7-9 at Ehrnfelt Sr. Center.

---
Support the Band - become a patron
Give a gift to your community and yourself by joining one of our "ensembles" this year. The donation levels are:

$25-$49 Woodwind Ensemble
$50-$99 Brass Ensemble
$100-$299 Percussion Ensemble
$300-$499 Jazz Ensemble
$500+ Director's Circle
Checks may be sent to:
Karen Muskoff, Treasurer
20771 Oak Trail Court
Strongsville, OH 44136
---
The Strongsville Community Band was founded in 1990 by director Ken Mehalko. The band received its initial financial support from the Strongsville Women's League. It now has a board of directors who set policies and raise and manage monies to support the band's activities. The City of Strongsville provides the performance and rehearsal areas.

The Strongsville Community Band performs six outdoor concerts during the summer months on the Strongsville Commons. Also scheduled in the Cultural Center of the Ehrnfelt Recreation and Senior Center are a Christmas Concert, a Winter Concert and a Spring Concert.

Outstanding musicians from all walks of life, including students, professionals and retirees join together in this community band because of their love for making music. The ensemble programs a variety of musical styles including marches, light classics and "pop" selections and other contemporary literature from the concert band repertoire. The band has also performed at other communities in the area including The Lorain Palace Theater with the Patriots Concert Band and at Lakeland Community College with the Lakeland Civic Band and two performances at Severance Hall, the home of The Cleveland Orchestra. Loras John Schissel, Dr. Frederick Fennell, Dr. Howard Meeker and Dr. Gary Ciepluch are but a few of the guest directors who have conducted the band in concert.
---
Upcoming Concerts


2017-2018 Concert Season. Our 29th year.
Concerts will ba at 3:00 p.m. unless noted.

Sunday, Oct. 29, 2017 at Strongsville Middle School Auditorium at 3:00 for Hurricane Relief.
Friday, Nov. 10, 2017 at Baldwin Wallace University at 7:00 p.m
Sunday , Dec. 10, 2017 at the Senior Center.
Sunday , Feb. 25, 2018 at the Senior Center.
Sunday , May 20, 2018 at the Senior Center.
---
Rehearsal Schedule

All SCB rehearsals will be in the Ehrnfelt Senior Center from 7:00 to 9:00 p.m.

2017 Rehearsals

Sept. 5, 19
Oct. 3, 17
Nov. 7, 21
Dec. 5

2018 Rehearsals

Jan. 2, 16
Feb. 6, 20
March 6, 20
April 17
May 1, 15
June 12, 14, 26, 28
July 3, 5, 10, 12, 24, 26
Aug. 7, 9

---

Ken Mehalko, Director
John McDermott, President
Karen Muskoff, Treasurer
Dan Barcy
Bea Hovanec




Kathy Lane
Renee McDermott
Terry Muskoff
Betty Rahm



Don Rahm
Helen Rathburn
Tom Rathburn
Kathy Zamrzia


---
Strongsville Community Band Personnel
---
FLUTE
Stephen Brasure, Ret. Music Teacher
Carolyn Ermlick (Piccolo), Retired
Ellen Hansen-Ellis, BW Con Admin. Asst.
Laurie Furtado (Piccolo), Database Admin.
Megan Hanlon
Renee McDermott, Airline Sales Mgr.
Leslie Meadows, Music Thearapist
Marilyn Zoller, Ret. Music Teacher

OBOE
Katie Fling, Oboe Teacher
Jessica Johnston, Oboe Teacher


BASSOON
Jim Husak, Retired U.S. Air Force
Marcia Warden, Music Teacher
Alison Whitney, Technical Writer

Bb-Eb CLARINET
Ann Marie Fuhrmann, Music Teacher

Bb CLARINET
Beth Dier, Computer Programmer
Jody Halley
Marty Kapinski, Editor
Gail Kish, CSU Music dept.
Ed Lichtenberg, Retired Administrator
Brian Maskow, Retired Band Director
Barbara McKissock, Ret. NASA Engr.
David Rusnak, Engineer
Tom Seese, Retired Safety Director


BASS CLARINET
Elaine Kubis, Retired Teacher
Gabby Lawrence, Project Mgr.


ALTO SAXOPHONE
Mike Elkins, Retired Software Devel.
Joe Rongone, Insurance Claims Rep.

TENOR SAXOPHONE
Scott Halley, Engineer
Stan Feikle, Retired Engineer

BARITONE SAXOPHONE
Logan Trudgen, Saxophone Teacher








TRUMPET
Dr. Mike Galloway, Ret. Music Professor
Dr. Peter Hoejke, BW Physics Professor
Meghan Galloway, Music Teacher
James Heinrich, President Instrumentors
Mark Hentosh, Software Developer
Kenneth Konicek, Retired Music Ed.
Doug Painting, Business Owner
Mary Phillips, Retired Media Specialist
Andrew Sanzotta, Gov. Tech Consultant
Reinhold Toerek, Engineer
Dennis Tucker, Retired Bank Exec.
James Wonnacott, Retired Music Ed.


FRENCH HORN
Ingrid Askenbeck, Ret. Psychotherapist
Linda Gardner, Retired Music Teacher
Marie Hamilton, Radiology Sched. Supervisor
Ann Painting, Ret. Substitute Teacher


TROMBONE
Dave Hartman, Director of Safety
Ryan Heinrich, VP Instrumentors
Ray Kinat, Retired Principal
Rob Lichtenberg
Ron Schaffner, Retired Teacher
Kevin Wenner, Lab Technician


EUPHONIUM
George Beelem, Sales
David Betts, Music Teacher
Chris Donze, Composer


TUBA
Carl Beckman, Engineer
Randy Border, BW Marching B.Dir.
Jim Reynolds
Dave Viglione, Retired Music Ed.


PERCUSSION
Clarence Barber, Composer
Dr. Rosario Cambria, Retired BW Prof.
George Kiteley, Retired BW Music Prof.
Darryl Mika, Computer Programmer
Dr. Rob Toth, Pharmacist

LIBRARIAN
Ann Painting









_______________________________________________________________________________________________________

Events Calendar
---
Excerpts from previous performances in mp3 file format. Click on track to play.

From the Feb. 19, 2011 performance at Ehrnfelt Event Center:
Duke Ellington Medley
Ride
Henry Mancini Medley

From the June 24, 2010 performance at B-W:
Irish Tune and Shepherd's Hey - Percy Grainger
Porgy and Bess Selections - Gershwin, arr. by Robert Russell Bennett
Italian in Algiers - G. Rossini, arr. by Calliet
Scottish Dances, 1st movement - Malcom Arnold, arr. by Paynter
Scottish Dances, 2nd movement - Malcom Arnold, arr. by Paynter
Caribbean Hideaway - James Barnes. David Kay, saxophone solo; James Wonnacott, trumpet solo.
Wedding Dance - Jacques Press
---